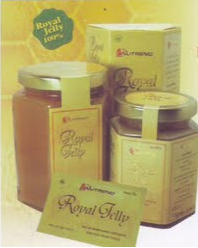 There are many quality royal jelly you can buy in Indonesia. And perhaps you can find them in your country. Besides Tiens and Revell, you can also take Nutrend Royal Jelly. Nutrend Royal Jelly is exclusively made of royal jelly plus honey which is benefit to take care of our health and make our skin always young.
Nutrend Royal jelly is manufactured by Sido Muncul, one of the biggest herbal manufacturer in Indonesia. A bottle of Nutrend Royal Jelly contains 400 ml of royal jelly plus honey. The consumption rule is 1 X 1/2 tea spoon a day.
Always remember when you interested in the product and you cannot find them at your country, please let me know if I can help you.